Postpartum psychiatry, also known as perinatal psychiatry or maternal mental health, is a specialized field of psychiatry that addresses the assessment, diagnosis, and treatment of mental health disorders that can occur in individuals during the perinatal period, which includes pregnancy and the postpartum period (typically the first year after giving birth).
When it comes to postpartum and psychiatric disorders, there's a lot to consider. From the typical baby blues to more serious mood and anxiety disorders, it's important to understand what you or a loved one may be experiencing. Did you know that up to 80% of women experience mild sadness or low mood after giving birth? While it's normal to feel a bit down, it's important to recognize when it's something more serious, like a major depressive episode that can affect your daily life. Some moms describe it as crying for no reason, but it could be more profound.
Postpartum psychiatry deals with a range of mental health issues that can affect individuals during this critical time. Following are a few of them.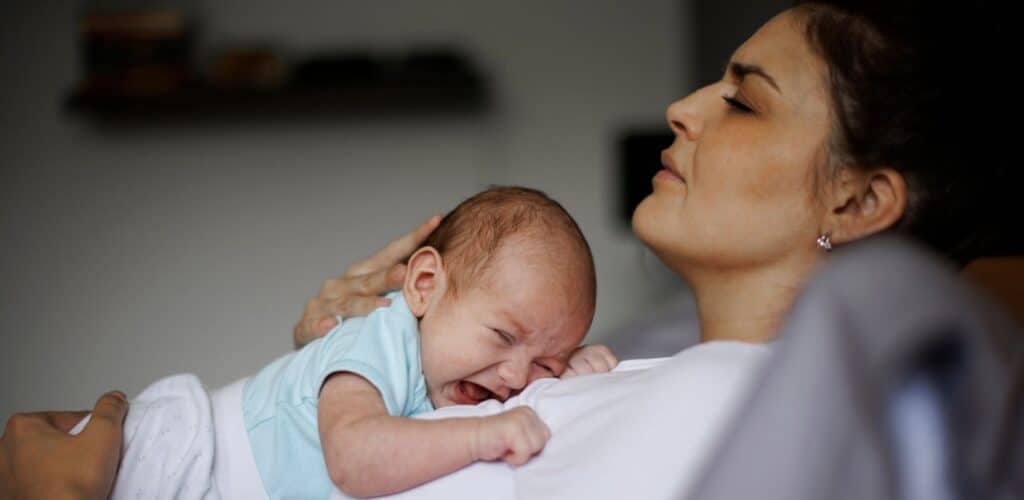 Postpartum Psychosis
Postpartum psychosis is a rare but serious condition that affects approximately one out of a thousand women after childbirth. The condition is characterized by a break from reality, which may manifest as delusions, hallucinations, or extreme agitation.
The onset of postpartum psychosis usually occurs shortly after delivery and includes both manic and psychotic symptoms. This condition is considered a psychiatric emergency, and we strongly advise women experiencing psychotic symptoms to seek emergency evaluation.
Although postpartum psychosis is relatively rare, considering the number of pregnancies in the United States every year, it is vital to be aware of this condition. Immediate medical attention is essential to ensure the best possible outcome.
Postpartum Depression (PPD)
Postpartum depression (PPD) can develop within the first two to three months after childbirth, but it may appear at any time after delivery. Some women may experience mild depressive symptoms during pregnancy. The symptoms of PPD are similar to those of depression that occur at other times in a woman's life. These symptoms include feeling sad or depressed, crying, losing interest in usual activities, feeling guilty, worthless, or inadequate, fatigue, sleep problems, changes in appetite, difficulty concentrating, and suicidal thoughts.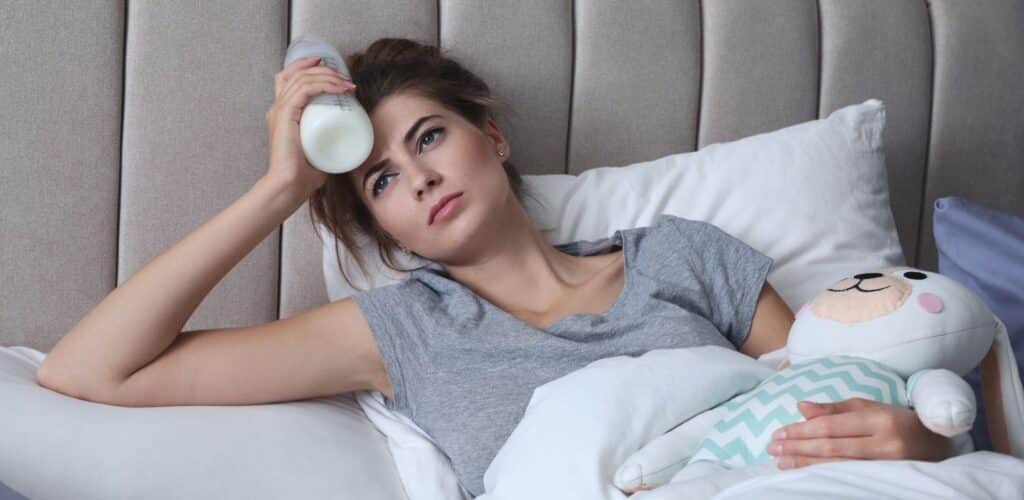 Postpartum Bipolar Disorder
Pregnancy and postpartum can be daunting for women with bipolar disorder. Research suggests that discontinuing mood stabilizers during pregnancy can increase the risk of relapse, making it a vulnerable phase for women. After giving birth, the chances of experiencing a severe mood episode, such as depression, mania, or hypomania, are higher in women with bipolar disorder. Moreover, postpartum psychosis is a real possibility for these women. It's crucial to stay informed and seek help during this crucial time.
Postpartum Obsessive-Compulsive Disorder (OCD)
It is possible for some individuals to develop obsessive and compulsive behaviors or intrusive thoughts during the postpartum period. These behaviors and thoughts are often related to the baby's health and safety. Obsessive Compulsive Disorder (OCD) is one type of anxiety disorder. Some women may not have OCD but may still experience obsessive-compulsive symptoms that bother them.
Postpartum Post-Traumatic Stress Disorder (PTSD)
Experiencing a traumatic childbirth can lead to postpartum PTSD. The recurrence of traumatic events, flashbacks, and intense emotional distress characterizes this condition. Some traumas that can trigger this condition include having a prolapsed cord, undergoing an unplanned C-section, using a vacuum extractor or forceps to deliver the baby, or having the baby go to the NICU. Women who have previously undergone trauma, such as rape or sexual abuse, are also at a higher risk of experiencing postpartum PTSD. Additionally, feelings of powerlessness and poor communication, along with a lack of support and reassurance during delivery, can also contribute to the development of this condition.
Postpartum Anxiety
It's worth noting that postpartum can be accompanied by a high level of anxiety. This is characterized by excessive worry, fear, or anxious thoughts, often triggered by the stress and demands of parenthood.
Mental health during the perinatal period is crucial for the well-being of both the parent and the child. Early identification and treatment of these conditions can significantly improve the outcomes for both. It's important for individuals experiencing postpartum psychiatric symptoms or their loved ones to seek help from qualified mental health professionals when needed.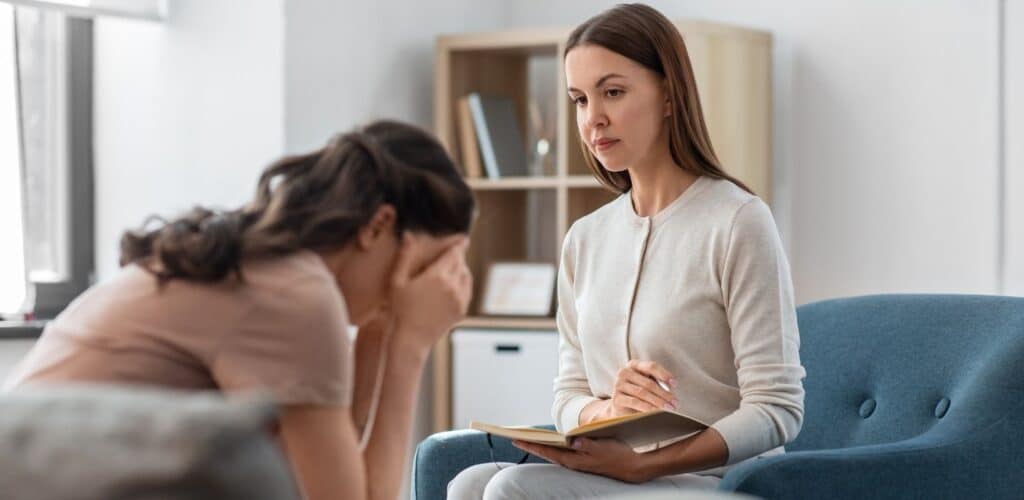 Novus Beginning Psychiatry: Your Path to Health and Wellness Starts Here!
We understand that navigating the complexities of mental health can feel overwhelming, but you don't have to face it alone. At Novus Beginning Psychiatry, we're here to support you every step of the way. Whether you're seeking therapy, medication, or a combination of both, our compassionate professionals are dedicated to helping you find the path to a happier, healthier life.
Our highly skilled psychiatrists are experienced in a wide range of mental health conditions, including anxiety, depression, bipolar disorder, OCD, PTSD, ADHD, autism, postpartum psychiatry and more. We offer evidence-based therapies that have been proven effective in helping individuals overcome their challenges. From cognitive-behavioral therapy (CBT) to couples/family therapy, we utilize the most up-to-date techniques to empower you on your healing journey.
We also recognize that medication is vital in managing certain psychological health conditions. Our team includes Dr. Nibras, who is a board-certified psychiatrist well-versed in medication management. He works closely with you to develop a comprehensive treatment plan, as we believe in the power of personalized care.
So, take the first step towards a brighter future. Contact us today to schedule an appointment. Our friendly staff is ready to assist you in finding a convenient time to meet with our dedicated professionals. Call (832)856-4718 and let us help you take charge of your mental well-being.
Medication Management For Postpartum Psychiatry Wellness
At Novus Beginning Psychiatry, we're dedicated to helping you unlock the power of effective medication management. Our team of psychiatrists has years of experience and understands the importance of finding the right balance for your mental health journey. We offer personalized and compassionate care, creating medication plans that are tailored to your unique needs. Our understanding of psychopharmacology allows us to provide the most advanced and evidence-based treatments available. 
Our goal is to help you by providing the right medications to enhance your therapy outcomes, reduce your symptoms, and improve your overall well-being. We want to be your trusted partner on the path to a brighter future. Please don't hesitate to contact us at Novus Beginning Psychiatry to experience the transformative effects of our comprehensive medication management approach.
Who is Dr. Nibras?
Dr. Sohail Nibras is a double board-certified psychiatrist in child, adolescent, and adult psychiatry. He completed his education at Saint Louis University and the American University of Integrative Science. He excels in treatments based on psychiatric care and therapeutic sessions and has experience treating dual psychiatric and substance use disorders. He is an assistant professor at the Menninger Department of Psychiatry and Behavioral Sciences at Baylor College of Medicine in Houston, Texas. He serves as an attending psychiatrist at Texas Children's Hospital. He trains future psychiatrists and engages in scholarly research projects.
Visit us
Come and visit us at one of our locations in person or meet us via telepsychiatry/online!
We're here to help in Texas, ready to meet you in person. If you're unable to make it in person, don't worry, we're also available online in Texas and Florida, so you can meet us easily from the comfort of your own home. Whether you prefer to see us face-to-face or connect with us online, we're here to assist you every step of the way.
Address in Sugar Land
120 Eldridge Rd Suite D, Sugar Land, TX 77478
Address in Katy
23410 Grand Reserve Drive, Ste. 401 & 402 Katy, Texas 77494
References
https://www.psychiatrist.com/news/5-minute-pearls-psychiatric-disorders-during-pregnancy-and-the-postpartum/?utm_source=psychsocial&utm_medium=social&utm_campaign=news&utm_content=readnow&utm_term=5mp
https://womensmentalhealth.org/specialty-clinics-2/postpartum-psychiatric-disorders-2/#:~:text=The%20Postpartum%20Period&text=For%20most%20the%20symptoms%20are,and%20(3)%20postpartum%20psychosis.
https://www.postpartum.net/learn-more/postpartum-post-traumatic-stress-disorder/#:~:text=Symptoms%20of%20postpartum%20PTSD%20might,and%20details%20of%20the%20event