Psychiatrist:
A doctor with a specialty in psychiatry, the area of medicine concerned with the identification, prevention, examination, and treatment of mental disorders, is known as a psychiatrist. Meanwhile, as medical professionals, a sugar land psychiatrist assesses patients to determine if their symptoms are due to a physical illness, a mix of physical and mental illnesses, or only psychological issues.
Psychiatrists have specialized training in the diagnosis and treatment of mental disorders using a biopsychosocial approach. A psychiatrist may sometimes be a part of a multidisciplinary team that includes clinical psychologists, social workers, occupational therapists, and nursing staff. Psychiatrists are qualified to assess the mental and physical aspects of psychiatric conditions.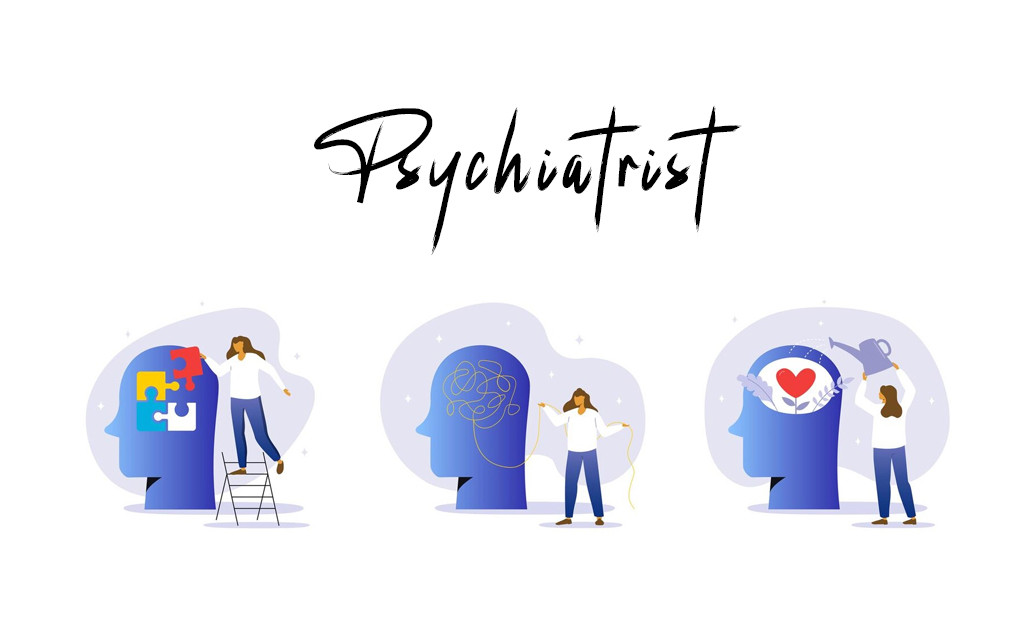 What Conditions Do Psychiatrists Treat?
A variety of problems can be recognized and treated by psychiatrists, including:
Alcohol use disorder and other substance use disorders.
Alzheimer's disease.
Anxiety disorders.
Attention-deficit/hyperactivity disorder (ADHD).
Autism spectrum disorder.
Bipolar disorder.
Body dysmorphic disorder.
Dissociative disorders.
Eating disorders.
Gambling disorder.
Gender dysphoria.
Hoarding disorder.
Mood disorders.
Obsessive-compulsive disorder (OCD).
Panic disorder.
Personality disorders.
Post-traumatic stress disorder (PTSD).
Postpartum depression.
Schizoaffective disorder.
Sleep disorders.
How do Psychiatrists Diagnose a Patient?
Due to their medical training, Sugar Land Psychiatrist is able to request a wide variety of medical laboratory and psychological tests. A patient's physical and psychological health can be depicted through these tests and patient consultations. Their education and clinical training equip them to diagnose patients, evaluate medical and psychological data, develop treatment plans with patients, and understand the complicated relationships between emotional and other various psychological disorders, as well as those brought on by genes and family history.
What Treatments do Psychiatrists use?
Depending on the needs of each patient, psychiatrists employ a range of treatments, such as different types of psychotherapy, medications, psychosocial interventions, and other treatments (such as electroconvulsive therapy, or ECT). Treatment often involves a combination of therapies.
A talking interaction between a therapist and a patient characterizes psychotherapy, often known as talk therapy. It is effective in treating a variety of emotional problems and psychiatric diseases. The goal of psychotherapy is to improve a patient's functioning by minimizing or removing painful or upsetting symptoms. Treatment may involve a few sessions over the course of a week or two or many sessions over the course of several years, depending on how serious the problem is. Depending on symptoms and condition, psychotherapy may be short- or long-term.
Types of Psychotherapy
There are many types of psychotherapy, such as:
Cognitive behavioral therapy (CBT)
Interpersonal therapy (IPT)
Mindfulness-based cognitive therapy (MBCT)
Dialectical behavioral therapy (DBT)
Problem-solving therapy (PST)
Psychodynamic therapy
Psychotherapies can assist patients in changing their behavior or cognitive processes, psychotherapies that help patients explore the influence of previous relationships and experiences on current behavior, and psychotherapies that are specifically designed to address other issues.
Medication can be prescribed by a Sugar Land Psychiatrist to help treat psychological health issues. These medicines work to change the chemical signaling and communication going on inside your brain, which can lessen some psychiatric conditions' symptoms. Patients receiving long-term medication treatment must visit their psychiatrist on a regular basis to check on the medication's efficiency and any potential side effects. Psychiatrists commonly combine medication and psychotherapy in their prescriptions.
Typical medication classes that psychiatrists recommend include:
Antidepressants – are used to treat eating disorders, borderline personality disorder, panic disorder, PTSD, anxiety, obsessive-compulsive disorder, and depression
Antipsychotic medications – are used to treat schizophrenia, bipolar disorder, and psychotic symptoms (delusions and hallucinations)
Sedatives and anxiolytics – are prescribed to treat panic attacks, generalized anxiety, and insomnia
Hypnotics – are medications that help induce, enhance, and keep sleep
Mood stabilizers – used to treat bipolar disorder ( mania and hypomania)
Stimulants – used to treat ADHD
Other Treatments
Electroconvulsive therapy (ECT)
Transcranial magnetic stimulation (TMS)
Light therapy for seasonal depression
Vagus nerve stimulation (VNS)
Deep brain stimulation (DBS)
What Is the Difference Between a Psychiatrist and a Psychologist?
A psychiatrist is a medical doctor who has completed residency and further psychiatric training. A psychiatrist is a medical professional who specializes in the treatment and diagnosis of psychological disorders. They have the authority to recommend medications and other medical procedures.
A psychologist normally holds a doctorate (Ph.D.) in clinical psychology and has received considerable training in both clinical practice and research. Psychologists use psychotherapy to treat disorders related to mental health (talk therapy). Medication cannot be prescribed by a psychologist.
Psychologists frequently handle simpler mental health issues than psychiatrists do, particularly those that need medication or other medical interventions.
To put it another way, psychiatry is the medical specialty that focuses on identifying and treating mental health issues, whereas psychology is the study of the mind, emotions, and behavior.
Where Does a Sugar Land Psychiatrist Work?
Psychiatrists can be found working in many different places, such as private practices, clinics, general and psychiatric hospitals, university medical centers, community organizations, courts and prisons, nursing homes, industry, government, and military settings, rehab centers, emergency rooms, hospice programs, and many other places.
When should I see a Sugar Land Psychiatrist?
To choose when to see a psychiatrist in Sugar Land Texas, it is usually important to do an honest self-evaluation of your symptoms and regular occurrences. While you shouldn't attempt a self-diagnosis of any particular mental health disorder, you can become conscious of and take note of behaviors, feelings, and thinking patterns that are unhelpful and disruptive to your daily life.
If you talk to your primary healthcare provider about your problems, they could occasionally suggest a Mental Health Psychiatrist for you. However, if you want, you may frequently seek a diagnosis and treatment plan from a psychiatrist directly.
Mental health events might be unpredictable, infrequent, or persistent. However, the most crucial thing to keep in mind is that you should get help immediately if they are significantly affecting your quality of life.
If you have any of the following symptoms, you may want to consider seeing a sugar land psychiatrist or telling your primary care physician:
Being unable to control or manage your emotions
Frequent episodes of anger or rage outbursts
Excessive or unreasonable fears
Engaging in risky behavior
Excessive worry or anxiousness
Change in sleep habits
taking drugs and other substances
Eating problems
Declining productivity in job or school.
Avoidance of social interactions.
Thoughts of harming oneself